FACULTY PROFILE STYLESHEET: do not remove this block
Vivian Hook, Ph.D.
Distinguished Professor of Pharmaceutical Sciences, Pharmacology and Neurosciences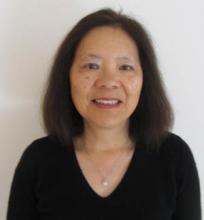 Vivian Hook, Ph.D.

Distinguished Professor of Pharmaceutical Sciences, Pharmacology and Neurosciences
Research Interests
The focus of research in the Hook Laboratory is to utilize novel protease mechanisms as new targets for drug discovery strategies for brain disorders of Alzheimer's disease, traumatic brain injury, pain, and mental health diseases. Proteases involved in lysosomal signaling and vesicular peptide neurotransmitter synthesis for cell-cell communication are dysregulated in neurodegeneration, causing synaptic and behavioral deficits. The research addresses the role of mis-trafficking of lysosomal cathepsin B to the cytosol where it activates inflammation, cell death, and synaptic dysfunction. Selective peptidic and marine natural product inhibitors of the pathogenic, cytosolic form of cathepsin B are being discovered and evaluated in cellular and animal models. Defining synaptic dysfunction is being achieved through proteomics and neuropeptidomics approaches. Furthermore, lysosomal dysfunction influences exosome communication among cells to mediate propagation of tau neuropathology in AD and related neurodegeneration. This research addresses the unmet need for new therapeutic drugs for brain disorders.
Selected Publications
Campeau A, Mills RH, Stevens T, Rossitto LA, Meehan M, Dorrestein P, Daly R, Nguyen TT, Gonzalez DJ, Jeste DV, Hook V. Multi-omics of human plasma reveals molecular features of dysregulated inflammation and accelerated aging in schizophrenia. Mol Psychiatry. 2021 Nov 5.  
Yoon MC, Solania A, Jiang Z, Christy MP, Podvin S, Mosier C, Lietz CB, Ito G, Gerwick WH, Wolan DW, Hook G, O'Donoghue AJ, and Hook V. Selective neutral pH inhibitor of cathepsin B designed based on cleavage preferences at cytosolic and lysosomal pH conditions. ACS Chem Biol. 2021 Sep 17;16(9):1628-1643.  
Jiang Z, Lietz CB, Podvin S, Yoon MC, Toneff T, Hook V, O'Donoghue AJ. Differential Neuropeptidomes of Dense Core Secretory Vesicles (DCSV) Produced at intravesicular and extracellular pH conditions by proteolytic processing. ACS Chem Neurosci. 2021 Jul 7;12(13):2385-2398.
Hook V, Yoon M, Mosier C, Ito G, Podvin S, Head BP, Rissman R, O'Donoghue AJ, Hook G. Cathepsin B in neurodegeneration of Alzheimer's disease, traumatic brain injury, and related brain disorders. Biochim Biophys Acta Proteins Proteom. 2020 Aug;1868(8):140428.
Boutté AM, Hook V, Thangavelu B, Sarkis GA, Abbatiello BN, Hook G, Jacobsen JS, Robertson CS, Gilsdorf J, Yang Z, Wang KKW, Shear DA. Penetrating traumatic brain injury triggers dysregulation of cathepsin B protein levels independent of cysteine protease activity in brain and cerebral spinal fluid. J Neurotrauma. 2020 Jul 1;37(13):1574-1586.
Podvin S, Jones A, Liu Q, Aulston B, Ransom L, Ames J, Shen G, Lietz CB, Jiang Z, O'Donoghue AJ, Winston C, Ikezu T, Rissman RA, Yuan S, Hook V. Dysregulation of exosome cargo by mutant tau expressed in human-induced pluripotent stem cell (iPSC) neurons revealed by proteomics analyses. Mol Cell Proteomics. 2020 Jun;19(6):1017-1034.
Boudreau PD, Miller BW, McCall LI, Almaliti J, Reher R, Hirata K, Le T, Siqueira-Neto JL, Hook V, Gerwick WH. Design of Gallinamide A Analogs as potent inhibitors of the cysteine proteases human cathepsin L and Trypanosoma cruzi cruzain. J Med Chem. 2019 Oct 24;62(20):9026-9044.
Divisions
Cancer Biology
Cardiovascular & Metabolic Diseases
Immunology, Inflammation, & Infectious Diseases
Neuropharmacology & Neurological Disorders
Programs
Signaling & Molecular Pharmacology